On this page ...
This page is specifically for family and friends who are interested in me and my new live in the USA. See also the page with maps.

October 26th, 2003, I moved to the US. Below you will find a list of things I did, encounters I had, pictures, people, etc.

It will not be super detailed, but it will give you an idea ...
By the way: More pictures I made can be found at DevianArt.
Going out - Having a good time
Well, naturally, one needs to have fun too.
Since last summer I know this weird looking bar called "Ken's Keyboard". It's not much - although pretty big - but the people that come there are definitely good people.
On Monday we used to play a little bowling competition - which is fun. On Friday's we usually go there after work and enjoy happy hour and have fun through out the entire night.
Naturally, Ken's place is not the only bar around (although this bar is extremely close to my place).
Friends every now and then take me to some other bars. The picture below was done at a bar where the ToyBox Band performed.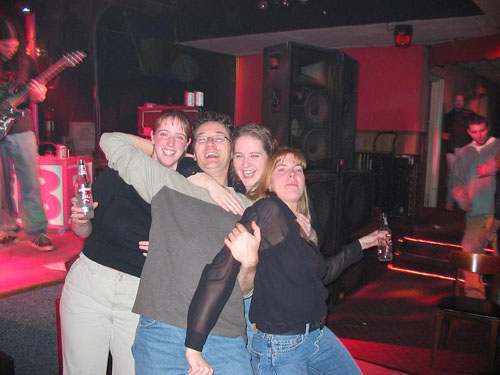 Melissa, me, Fran and Judy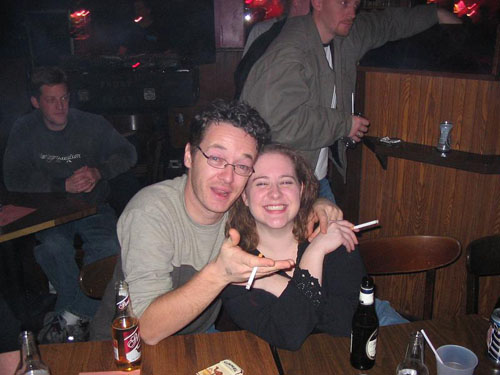 Closeup with Fran
The habbits and rules are a bit different from what we know in Holland.
Most bars close at 2 o'clock ... so that's a bit early. But they found a work-around for that: Doing the parking-lot-thing. Basically hanging out on the parking lot of the bar.
Not every bar has a parking lot, however "Ken's Keyboard" (also known as the "peehole" by certain insiders - Hi Missy!) does. Bit of a weird bar - looks like a crummy old place on the outside, well so does the inside. However the people that come there are great and very friendly and great atmosphere.
When looking at "Ken's Keyboard" on the inside, you will get a heart attack. You wonder why the bar hasn't burned down yet.
Electricity is glued/taped/plugged together with Duc-tape and extension-cords. Could be a scene from "Naiional Lampoons' Christmas vacation", where a gazillion plugs are plugged into one single outlet - scary and violating about any rule we do have in Holland for an establishement like this. But ... FUN!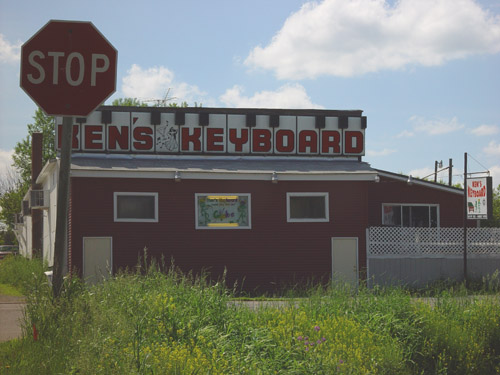 Ken's Keyboard ...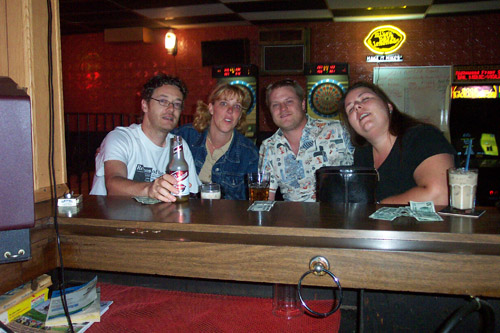 And in case you think THIS is scary - wait till you get there :-)
So much fun that people even managed to find my website and actually visited "Ken's Keyboard". Vince, Cory, and their crew one day popped by, after finding this website ... I can tell you that we had enough Jaeger Meister shots that night ;-) ... it's quite an interesting experience to run in to these cool guys - definitely the right attitude ... oh and being the local rockstar/hero for a night is pretty cool too ;-)
Don't forget to check out Vince's MySpace page!
So ... Follow their example and pop by for a beer ... ask for Hans ;-)
The address: 301 State Road 35, Osceola, WI 54020 - or click this link for the location using Google Maps.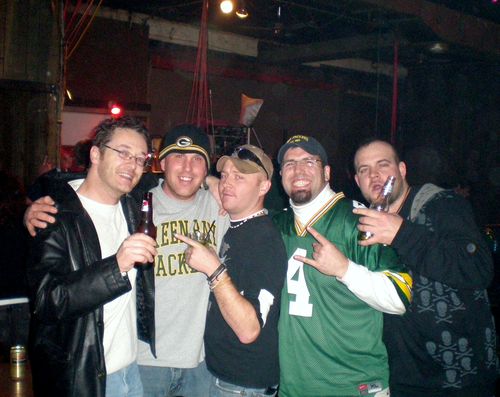 The crew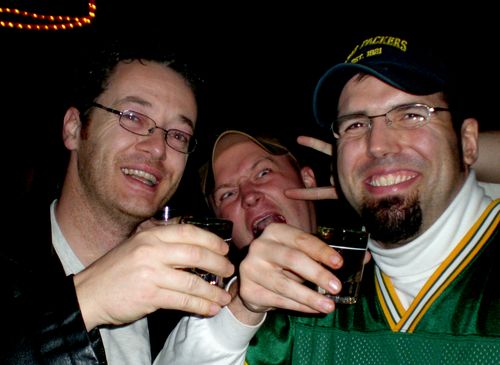 Jaeger Mesiter shots ...
Go to the Top of this page or go to "Dog adventure"