On this page...
Displaying subtitles with VobSub ...

Ripping a movie is all nice and dandy, but subtitles can be pretty nice to have too. So on this website I already explained how to rip subtitles to text files, and a page on how to rip subtitles in it's original format, or you can download subtitles from website's like NLondertitels.com or SubNet.

VobSub is a nifty little tool that acts as a DirectX filter which runs AUTOMATICALLY when needed. This means that the tool will only activate if a subtitle has been found. It then blends the subtitle into the movie. It supports text-file based subs (srt, sub, psb, smi, ssa, ass) and bitmap based subs (idx+sub/rar), as well as selection of multiple languages. Playback is possible in most Windows applications like Windows Media Player, PowerDivX player and even when transcoding DivX to MPEG (using MPEG Encoder by MainConcept).

You can download the most recent version of VobSub from their website or from the WeetHet download page.

Note: Read the disclaimer first, I assume even subtitles are copyrighted!

Tip: Take a look at these sites for where to download subs: NL-Subs (dutch), Black Phantom (dutch), and SubPage (multiple languages).
Download and Install VobSub
Naturally we will need the FULL install of VobSub, as it comes with the proper tool to rip the subtitles. You can either download it from WeetHet or visit the VobSub homepage and get the most recent one.
After downloading the FULL version, double click the EXE file. In case you downloaded the zipped file, then first unpack it using WinRar or WinZip.

Follow the steps as given by the setup program. If you have tools like VirtualDub, then please consider installing the plug ins for these too.
If in doubt: make sure ALL options are checked!
Preparing Movie and subtitles
Before we can actually use subtitles, we must make sure the filenames match the AVI file. This is the way VobSub recognizes it's subtitle files. This means that for example a subtitle for MYMOVIE.AVI should be called MYMOVIE.SRT, MYMOVIE.SUB, MYMOVIE.PSB, MYMOVIE.SMI, MYMOVIE.ASS for text based files, or MYMOVIE.IDX and MYMOVIE.SUB or MYMOVIE.RAR for sub pictures (video strip) based files.
Note: Compressed subtitles (compressed MYMOVIE.SUB to MYMOVIE.RAR) occasionally causes problems. First of all you will need the proper version of UNRAR.DLL which you can download from the WinRar Website. Extract the EXE and copy the UNRAL.DLL into the C:\WINDOWS\SYSTEM (Windows 9x) or C:\WINDOWS\SYSTEM32 (Windows XP) or C:\WINNT\SYSTEM32 (Windows NT/Windows 2000).
These file MUST be in the same directory as the AVI/MPG file!
Tip: You can find info at this site on the How to rip Subtitles to Text files and How to rip Subtitle pictures.
Movie Playback
After installing VobSub and after verifying/renaming the files, it's time to do some playback.
I personally recommend PowerDivX NeXtGen for playback as my Windows Media Player sometimes refuses to show video with DivX encoded movies. Not only that, PowerDivX has some really great features like enhancing audio (volume etc), controlling DirectX filters, etc.
Simply double click the AVI file, or right click the AVI file and select "Open With". Alternatively start PowerDivX and open the AVI file or drag and drop the AVI file onto the PowerDivX controls.
Once the movie starts playback, a little GREEN ARROW should appear in the SysTray (in the lower right corner of your screen - next to the Windows clock).

By clicking the GREEN ARROW with the right mouse button, a menu appears.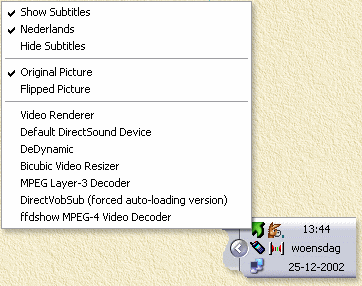 In this menu, you can do some cool settings. In the upper part (here showing "Show Subtitles", "Nederlands" and "Hide Subtitles") you can enable (show) or disable (hide) the subtitles. In this example only one subtitle is available: Dutch (= Nederlands). If multiple languages are available, then these will appear here too so you can switch to a different language.
Optionally you can flip the Video output, I haven't had the need for that yet.
The options in the lower part of the menu (in this example "Video Renderer" ... "ffdshow MPEG-4 Video Decoder") are items which can access properties of particular filters. The amount of items here depends on the amount of DirectX filters you have installed on your PC.