On this page ...
So you downloaded a NRG file for burning a CD ... but you don't have Nero to burn it ...

In this article I'll show you how simple it is to convert a NRG file to an ISO file. A NRG file, as is a ISO file, is basically a complete image of a CD-Rom. The problem with NRG files is that they require you to have Nero in order to burn them - also most virtual CDRom tools do not support Nero (like the free CD-Daemon).

We will use a program called NRG2ISO (by Rolland Illig) which you'll also find on the Download page.

Note: Read the disclaimer! Copying copyrighted CD's is in most countires illegal!!
Getting NRG2ISO
The first step is to download the NRG2ISO application from the Download page or from Rolland's website. The downloaded file (nrg2iso.rar) must be extracted using WinRar.
After extraction, double click the NRG2ISO.EXE file. This window now appears;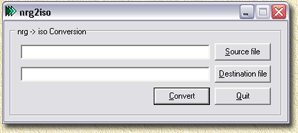 NRG2ISO: Start window
Convert NRG to ISO
As we already mentioned in the header of this page; a NRG file can only be burned to CD by using Nero.
Well, with the application NRG2ISO this is extremely easy by converting only the NRG file to an ISO file. This can also be usefull in case you CD-writer software is incapable of burning NRG's or when you're using a tool like CD-Daemon.
The ISO file can be burned with most CD-burning software (even with Nero: Burn ISO files with Nero).
Click the button "Source file" field. Use the upcoming dialog to select the desired NRG file.
NRG2ISO will automatically suggest the same file name, now with the extension .ISO. You can change the name manually if you want to.
Now click the button "Convert", and it's a matter of waiting a few minutes.
Once the ISO file is completed, you can use most CD-Burning programs to burn the image.